Thanksgiving Survival Guide
Thanksgiving is one of the best, and most stressful, holidays of the year.  Here are some time, and sanity, saving tips to make yours a happy one.


1.  Make your pies ahead of time, and freeze them unbaked.

2.  Read the recipes you picked REALLY CAREFULLY to make sure you have the equipment you need…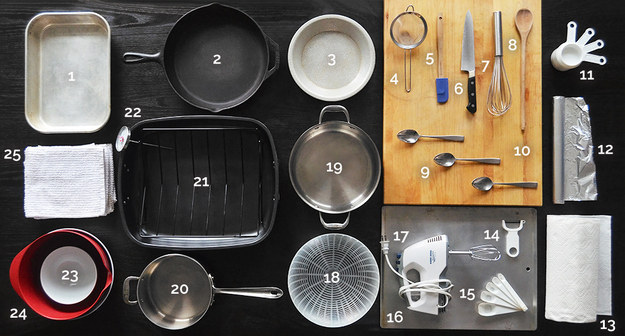 3.  Split your grocery shopping into two strategic trips.
The first trip, which you should do a full week before Thanksgiving (before the supermarkets get crowded), is for nonperishables — canned things, flour and sugar, spices, paper towels, foil — anything on your list that doesn't need to be super fresh. Then make a second smaller and easier trip the Tuesday before Thanksgiving to just pick up things like salad greens, any fruit you still need, milk and cream, etc.

4.  Make a big batch of turkey stock and gravy now and freeze it.

5.  Same goes for cranberry sauce.
You can also make the pureé part of any casseroles in advance and freeze it.
Any time you bake and mash up a vegetable with dairy (ie make a purée) and use that as the base of a casserole, you can freeze that base. Thaw it in the fridge the Tuesday or Wednesday before Thanksgiving so you can finish your casserole.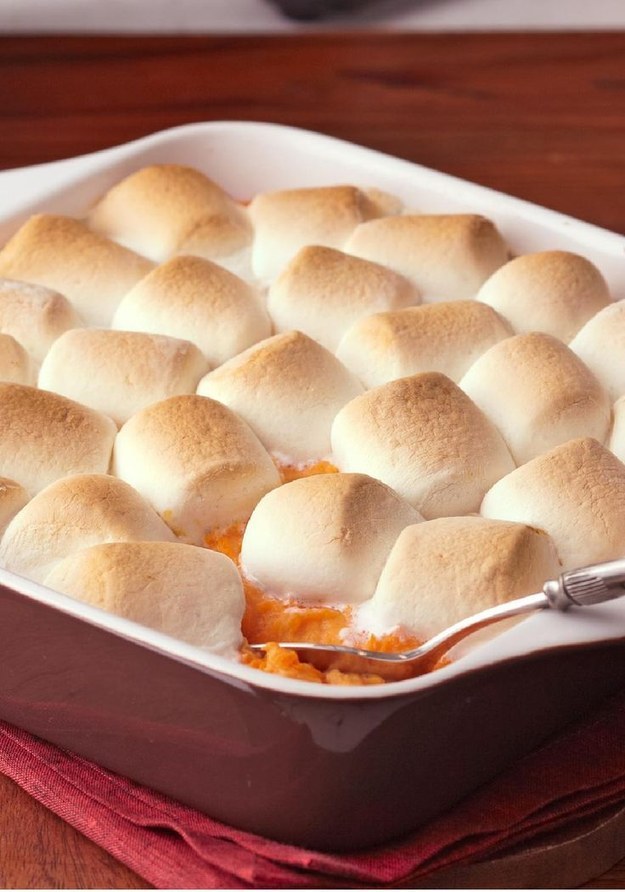 6.  Tape Thanksgiving recipes at eye level, so you don't have to rummage through books while cooking.



THE MONDAY OR TUESDAY BEFORE THANKSGIVING

1.  Move your prepped frozen stuff from the freezer to the fridge to thaw.

2.  Toast any nuts you need to toast; grate any cheese you need to grate.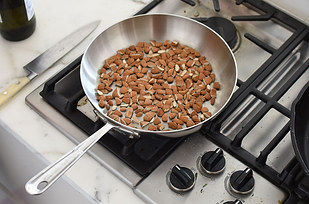 3.  Use a cooler to brine your turkey so that it doesn't take up your entire fridge.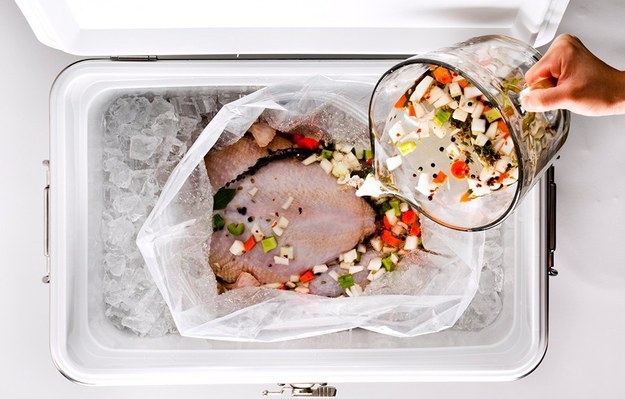 THE DAY BEFORE THANKSGIVING

1.  Get the mashed potato prep done the day before: You can peel, cut, and soak them overnight in the fridge.

2.  Wash, trim, and chop your veggies the day before then store in plastic baggies in the fridge.

3.  You can even sauté your stuffing ingredients now.
Let them cool, put them in a plastic bag, and put in the fridge. Then tomorrow you can heat them back up quickly and finish making your stuffing without all the pesky herb picking and chopping.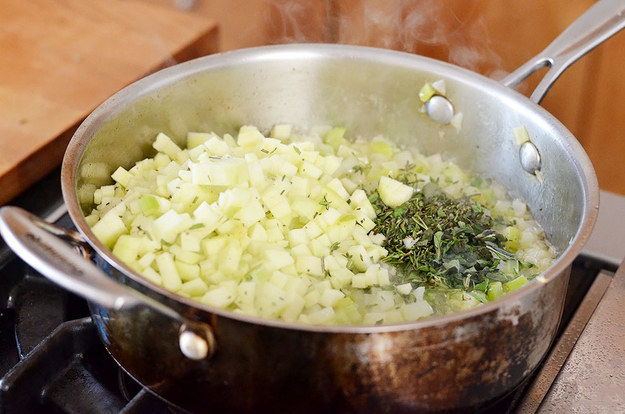 4.  Designate your serving plates and utensils; put labels in them the night before Thanksgiving.

5.  Set the table.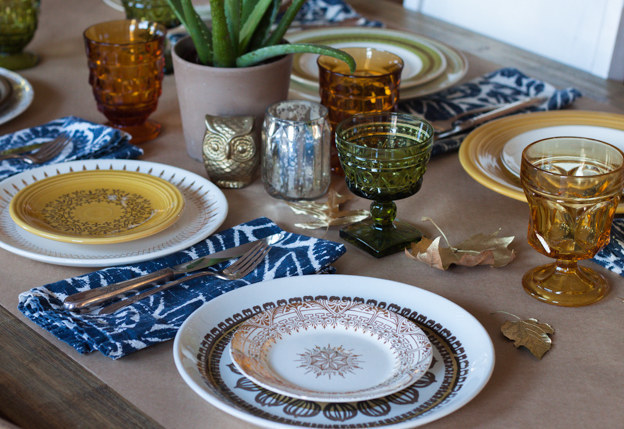 THE DAY OF THANKSGIVINGT

1.  Use a slow cooker to keep your mashed potatoes warm.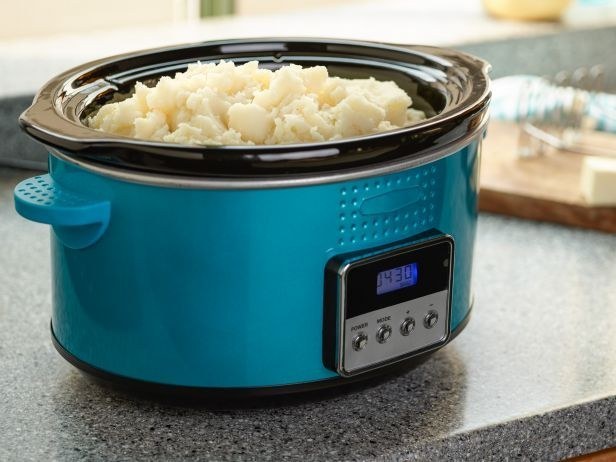 2.  If part of the turkey starts to brown too quickly or burn, don't panic, just cover that part with a sheet of foil.

3.  Use your coffee thermos to keep your gravy warm.

4.  Know where to put the thermometer to tell if your turkey is REALLY done.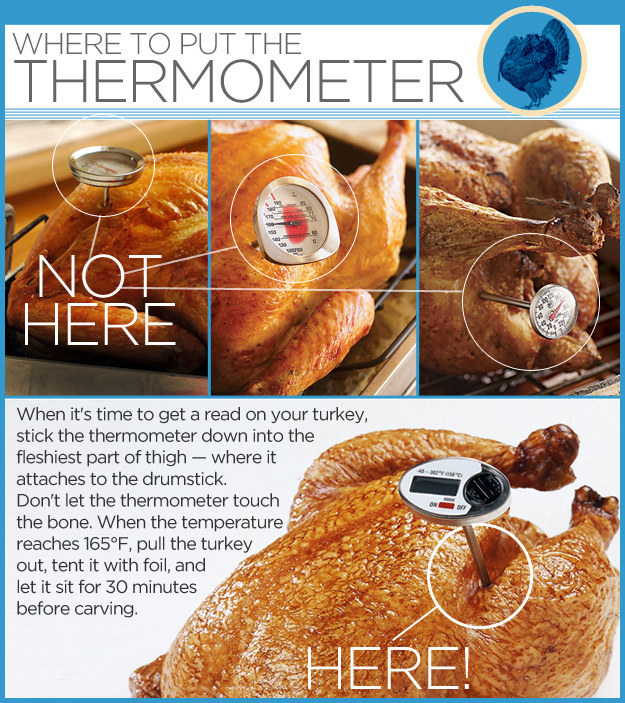 5.  Revive dry turkey meat with a little warm stock.


THE FEW DAYS AFTER THANKSGIVING

1.  Divide leftovers and pack them in small containers
If you have a lot of leftovers after the big day, rather than packing the food away in big containers (one big container of potatoes, another of turkey)  separate them into mini meals, pack them in  smaller Snapware containers, and freeze them individually.  This cuts down on how much could spol if not eaten in the day or two following the holiday - and you can have a meal for an individual, or the whole family, without having to thaw everything.  

2.  Pack a Hot lunch!
Individual mini meals make a great time-saver after work, or, even better, as a hot lunch.  Place them in the fridge to thaw the night before.  Then in the morning you can heat them, and pack them in your Lava Lunch, or warm them for dinner later that evening.

Happy Holidays.